POMA Pinnacle Awards Presented by Mossy Oak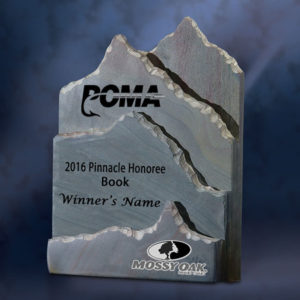 POMA's Pinnacle Awards are the highest honor the organization can bestow upon its media members for their creative works. The Pinnacle Awards are presented by presenting partner Mossy Oak during POMA's Annual Business Conference.
Pinnacle Awards Entry Rules and Form will be available when the next entry period opens.
In 2006, Mossy Oak joined forces with the Professional Outdoor Media Association (POMA) as the title partner of the organization's prestigious Pinnacle Awards, which honor journalistic excellence among POMA members.
"Mossy Oak is deeply committed to POMA and the Pinnacle Awards," said Tim Anderson, with Mossy Oak. "Traditional outdoor sports writers, illustrators and broadcasters are the lifeblood of the outdoor industry. Through their voices, they engage their audiences, excite and encourage them, and teach them how to hunt, fish, shoot, trap and simply get outdoors. Mossy Oak is proud to be a partner in a program that honors those who excel at their craft and who believe in and defend the outdoor lifestyle that means so much to all of us."
The Pinnacle Awards honor journalists annually for exceptional journalistic achievement in traditional outdoor sports-focused magazine writing, newspaper/web writing, photography/illustration, book, broadcasting, and conservation journalism.
Entries for the 2017 Pinnacle Awards are now closed. Thank you for your submissions.
Previous Pinnacle Awards Honorees
Save
Save